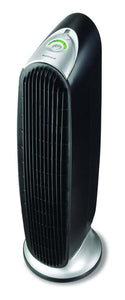 This ultr-quiet air purifier offers users a permanent pre-filter that works effectively in rooms that are up to 170 square feet in size.
There is an electronic filter check indicator that makes it easy to provide proper maintenance for this air purifier.
The tower design makes it easy for this Honeywell air purifier to capture the dust, pollen, pet dander, and cigarette smoke that might be harming your indoor air quality.
A built-in ionizer helps to keep captured particulates within the unit so all you have to do is vacuum them out to clean them.

Permanent Washable Filters, Medium Room(170 sq. ft), 29" x 11" x 10"