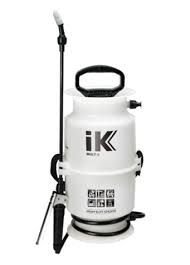 Sprayers designed to obtain the highest strength and versatility for professional use with the most aggressive chemicals in various sectors. Particularly resistant to acids.
Products with which to use:
suitable-Solvent-based pesticides
suitable-Oils, solvents and petroleum by-products
FEATURES
Metal opening and closing handle
Integrated funnel in tank
Safety valve with depressurization option
Transport belt in shoulder strap
Translucent tank with level indicator
Base with support for the feet
Valve: tared at 3 bar despresurizable
Hose: 1,3 m
Standard nozzles: Adjustable conical nozzle and fan
Lance: 36 cm fibreglass
Total capacity: 6l. - 1,58 U.S. Gals.
Usaful capacity: 4l. - 1,06 U.S. Gals.
Litres/Min. 3 bar: 0,50 l/min. - 1pint/min.
Gross weight: 1,72 kg - 3,78lbs.
Net weight: 1,47 kg - 3,23 lbs.