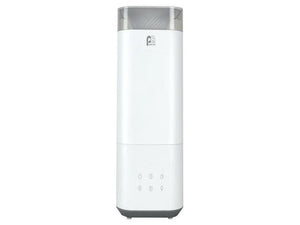 Comfortable air not only feels good, it's also good for you. That's where this humidifier comes in. Engineered by Perfect Aire, this 1.32 gallon tower humidifier quietly disperses an ultra-fine, cool mist, humidifying medium to large-sized rooms. Relief from dry skin and allergy symptoms, plus an extra defense against airborne illnesses. Need more reason to love this humidifier. This unit features an aromatherapy function, just add your favorite scent and let your room fill with soothing scents and smells.
DIGITAL LED DISPLAY: Built-in humidistat tells you the current relative humidity, so you can easily choose your mist levels. Set your desired humidity level with touch controls, 40-60% is recommended.
NIGHT-LIGHT & SLEEP MODE: Designed to be placed bedside, this humidifier also includes a low intensity blue night-light to provide comfort and safety. For less disturbance, you can also engage the Sleep Mode function to shut off the LED screen.
ESSENTIAL OIL TRAY: This humidifier has an essential oil tray where you can add your favorite aromatic oils or scents, to be released through the mist for refreshing air! Aromatherapy is great for stress-relief, relaxation, and improved focus.
EASY FILL DESIGN: This humidifier has been engineered with a convenient top-fill design making it safe and easy to setup, and with a tank capacity of 1.32 gallons of water, it can run up to 50 hours at a time!
8-HOUR TIMER: Our Timer Mode allows you to set the humidifier for 1 hour, 2 hours, 4 hours, or up to 8 hours, so it is perfect for a full night of restful sleep.
NO-HASSLE 1-YEAR WARRANTY: We have your back with Perfect Aire's comprehensive product warranty. Comfort...built to last!