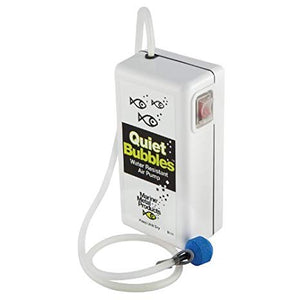 Marine Metals Quiet Bubbles Aerator Pump grants all the best characteristics.
Marine Metal Bubbles any bucket, portable With up to operation on just 2 "D" batteries, the portable, to keep live alive up to 8 gallons.
Impact water resistant with neoprene rubber booted copper longer batter air stone with 24" of silicone air tubing Large stainless clip for attaching any bucket.
Box design is to keep in Each pump individually assure Quiet. up to 33 on 2 cell batteries.
Deluxe air pump.